About Us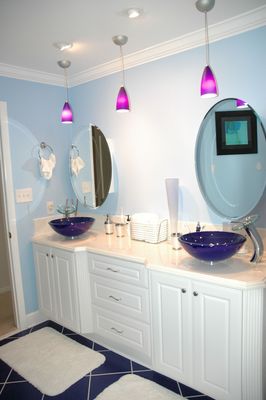 With over 35 years of experience in the construction business, we bring our expertise and professional skills to each and every job. Not only do we have the skills and knowledge to get the job done right, we also have the desire to make sure each of our customers completely satisfied.
We do everything possible to ensure that all projects run smoothly and ultimately become a sanctuary for friends and family to gather. We can transform your home dreams into your dream home whether it's turning extra rooms in to cozy personal spaces, adding or remodeling a bathroom or kitchen, or starting from the ground up and building you a new home. Our past clients will confirm we do excellent work and exceed all expectations.
Qualifications
Licensed and insured in North Carolina
Member of Building Trade Associations
Good Standing with Better Business Bureau
Classic Creations and Renovations can help you with the following types of projects:
Kitchen, Bathroom, Closet and Home Office Cabinets
Kitchen Remodeling
Bathroom remodeling
Handicapped Accommodations including ramps, grab bars and interior alterations
Room Additions
New Construction
Granite, Marble, Quartz, Corian, Cultured Marble and Laminate countertops
Tile back splashes
Under cabinet light (Xeon and LED)
Ceiling Lighting (Recessed and Pendant)
Finished Basements
Attic and Garage Conversions
Hardwood and Tile Flooring
Exterior Siding (Hardi-Plank and Vinyl)
Replacement Windows
Painting
And many more
Classic Creations and Renovations' experts can help you with: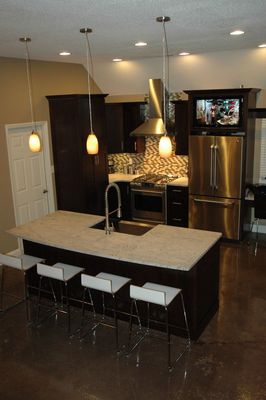 Pre-Construction Cost Estimating and Budgeting
Architectural Design
Engineering
All necessary permitting and inspections including rezoning
Coordination with Home Owners Association to get project approvals
Turnkey construction and quality control from start to finish
You can trust that our experienced team of skilled craftsmen and daily job supervision will make sure that your project is conceived, designed, planned and built to the very best of our ability and within a budget that you can afford.
Horror stories abound of contractors without integrity who leave a job half done, take your money and run, do bad work and leave you miserable. You can avoid those headaches by choosing a proven, trusted, and established member of the triad community for over 50 years -- Classic Creations and Renovations.
Earn Your Trust
Being a family owned company that is active in our community, we don't want to simply make a sale. We are all about you. Our business depends on it!!! We are proud that over 60% of our business comes from either repeat customers or referrals. We couldn't keep doing that if we didn't leave our clients thrilled with a beautiful home where they can relax, entertain, and live life to the fullest extent with friends and family.
We understand that you have invited us into your home as a guest to help you make wise choices. In order to make an informed and intelligent decision you need someone that truly cares about you and will provide you with honest and unbiased information.
Our estimates are clear and detailed so you will know what you're getting or not getting. It will be clear what we will provide and what you can expect from us as well as our expectations of you. We don't use sales gimmicks to low ball you with unrealistic prices for you to only find out later that what you want will cost $1000s more than you estimate. We try to cut out as many as those problems up front by listening to what you want and pricing the project accordingly.
Maybe our slogan should be "Making Friends One Customer at a Time" because by the time we leave the job, we truly have made a friend and that's what has blessed our business for the past thirty plus years, carrying us through the bad times and catapulting us in the good times.

Steve Davis, Owner